Missouri Baptist University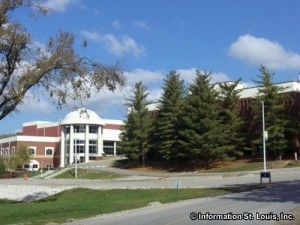 The Missouri Baptist University main campus is located in Creve Coeur, Missouri and has 11 other locations throughout the Metro St. Louis Area. It is an evangelical Christian, liberal arts university with undergraduate and graduate degree programs. The University has a sports program and is a member of the NAIA and the AMC.
Missouri Baptist University at a Glance
Type of School: Private, evangelical Christian, liberal arts institution of higher learning
Degree Programs: 71 undergrad, graduate and doctoral programs
Number of Undergrads: 4600
Mascot: Spartan
Sports: Baseball (M), Basketball (M,W), Beach Volleyball (W), Bowling (M,W), Cross Country (M,W), Dance (W), Golf (M,W), Lacrosse (M,W), Soccer (M,W), Softball (W), Stunt (W), Tennis (M,W), Track & Field (M,W), Volleyball (M,W), Wrestling (M,W), Cheerleading (Coed), ESports (Coed).
Missouri Baptist University
One College Park Drive
St. Louis, MO 63141
314-434-1115